ZZR QUALIFICATIONS AND ROLES
Zig Zag Railway is committed to ensuring:
Workers are competent to do their job and hold the appropriate qualifications
Workers undertaking railway safety work have the competence as per the Rail Safety National Law National Regulations 2012
It meets all legislative obligations under the Work Health and Safety Act 2011 and associated regulations
It meets all internal requirements that provide the necessary direction regarding safe-working practices, as described in the Zig Zag Railway Safety Management System.
It provides training, assessment and competence maintenance for the above requirements, which are reflected in Zig Zag Railway's Quality Training Management System (QTMS).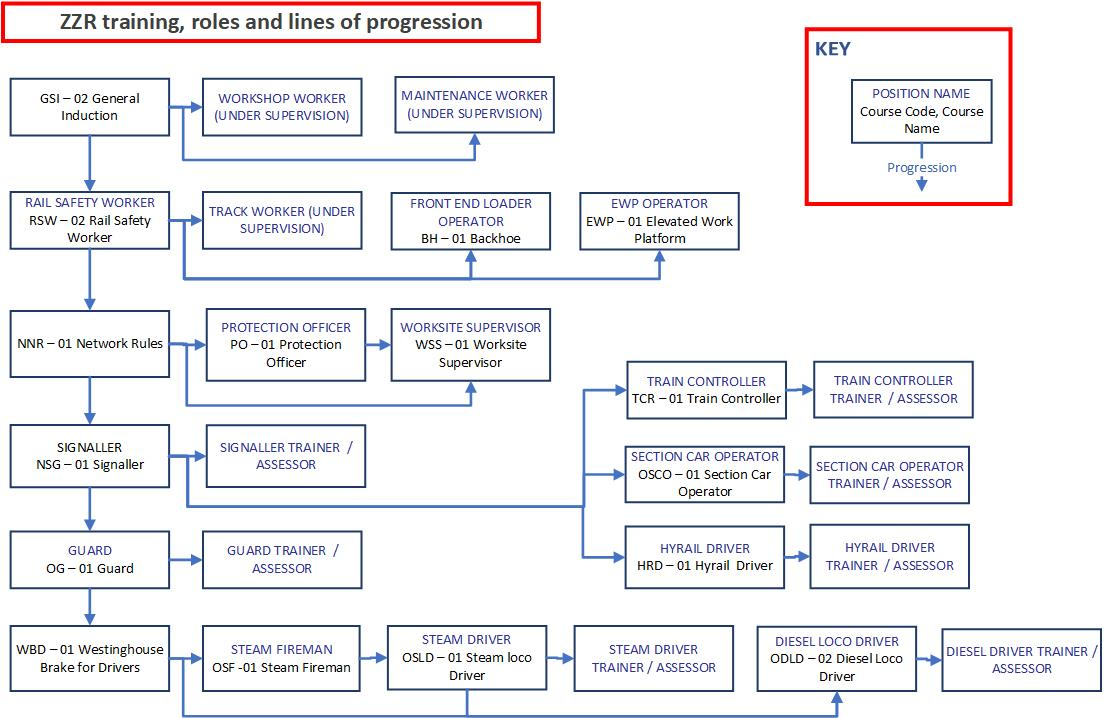 Institute courses mapped to all ZZR Roles. (SOME COURSES ARE STILL UNDER DEVELOPMENT - CHECK BEFORE STARTING)
The General Induction Course must be undertaken by all workers and contractors prior to beginning any work, anywhere at ZZR. A daily or job specific briefing will be undertaken for each proposed activity in line with the Safety Management System.
The Rail Safety Worker course must be undertaken by all workers who will have any Rail Safety work role, including those who will work in a supervised role on or around the rail corridor.
The Network Rules course is a prerequisite for all operational positions undertaking rail safety work on the railway including those working on or about the rail corridor without supervision.
The Zig Zag Institute holds training and assessment evidence and history of an individual for auditing and verification purposes
In the table below, you can see the courses that are required to be qualified in each ZZR role. You can click the name of the course to be taken to that course in the Institute.
ZZR ROLES

COURSES REQUIRED FOR ROLES

WORKSHOP WORKER, MAINTENANCE WORKER
General Induction

TRACK WORKER

General Induction
Rail Safety Worker
SIGNALLER (Application Required)
General Induction
Rail Safety Worker
Network Rules
Signaller
GUARD (Application Required)
General Induction
Rail Safety Worker
Network Rules
Signaller
Guard
TRAIN CONTROLLER (Application Required)
General Induction
Rail Safety Worker
Network Rules
Signaller
Train Controller
PROTECTION OFFICER (Application Required)
General Induction
Rail Safety Worker
Network Rules
Protection Officer
WORKSITE SUPERVISOR (Application Required)
General Induction
Rail Safety Worker
Network Rules
Worksite Supervisor

SECTION CAR OPERATOR (Application Required)

General Induction
Rail Safety Worker
Network Rules
Signaller
Section Car Operator
HYRAIL OPERATOR (Application Required)
General Induction
Rail Safety Worker
Network Rules
Signaller
Track Vehicle Operator
DIESEL LOCO DRIVER (Application Required)
General Induction
Rail Safety Worker
Network Rules
Signaller
Guard
Westinghouse Brake
Diesel Locomotive Driver
STEAM FIREMAN (Application Required)
General Induction
Rail Safety Worker
Network Rules
Signaller
Guard
Westinghouse Brake
Steam Fireman
STEAM DRIVER (Application Required)
General Induction
Rail Safety Worker
Network Rules
Signaller
Guard
Westinghouse Brake
Steam Fireman
Steam Locomotive Driver
EWP OPERATOR (Application Required)
General Induction
Rail Safety Worker
Elevated Work Platform
FRONT END LOADER OPERATOR (Application Required)
General Induction
Rail Safety Worker
Backhoe